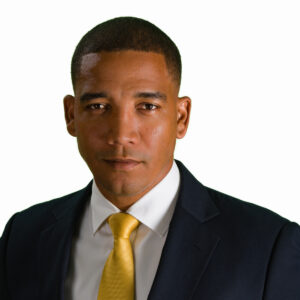 MINISTER OF TOURISM & PORTS – HON. KENNETH V. BRYAN, MP
Kenneth Vernon Bryan, Member of Parliament (MP) for George Town Central was born July 12th, 1980 in Grand Cayman, Cayman Islands.  A committed family man, Kenneth is married to, Michele Bryan, together they have two daughters.
Minister Bryan has a degree in Business Administration from the University College of the Cayman Islands.  He is also certified as a Backpack Journalist by the Poynter Institute of Media in Tampa, Florida. He also has experience as a civil servant, which he gained in his first job as a Cayman Islands Fire Officer in 1997.
He is well known for his time as a TV reporter, anchor and political journalist with Cayman 27 (2008- 2012) and as the Political Assistant to the Premier of the Cayman Islands from 2013-2015.   In those two careers, he garnered much of his political knowledge.
Mr Bryan is also the founder of the "Grasp Your Future" voting registration drive in 2013 helping to register thousands of young people to participate in the electoral process.
In his free time, Kenneth speaks with troubled youths in various schools, most notably with the "Boys to Men" programme.
Once elected in 2017, he was appointed to a number of governing committees and is a strong voice in the opposition as the youngest member of the then Legislative Assembly and the sole independent member of the house.
Mr Bryan was reelected in April 2021 and is now the sitting Minister for Tourism & Ports.
Chairperson – Carla Reid
Deputy Chairperson – Pending
Member – Rosa Harris, Director of the Department of Tourism
Member – Representative from the Ministry of Culture and Heritage or nominee
Member – Representative from the Ministry of Lands or nominee
Member – Pending
Member – Pending
Ex-Officio – Stran Bodden, Chief Officer, Ministry of Tourism and Port
Secretary – Patrick Thompson, CINAA Director
Patrick Thompson – Director, CINAA
Pending – Administrative Manager, CINAA
Pending – Marketing Coordinator, CINAA
Lyda Ebanks – Human Resources Manager, CINAA
Trevor McGaw – Financial Controller, CINAA
John Lawrus – General Manager, Queen Elizabeth II Botanic Park
Candace Ransome-Grant – Operations Manager, Pedro St. James
Hell Geological Site – Administered by the CINAA
Cayman Craft Market – Administered by the CINAA
The mission of the Cayman Islands National Attractions Authority is to enhance and diversify Cayman's tourism product by offering high quality attractions that display Cayman's culture, history, geology, flora and fauna; by providing leadership and skilled management that effectively administers allocated resources for the efficient development and preservation of its attractions.
both the Cayman Islands Government and the National Trust for the Cayman Islands, the Hell Geological Site and the Cayman Craft Market.
Notary Public Services
The Cayman Islands National Attractions Authority offers notarial services, including:
Witnessing and attesting the signature of documents
Authenticating company and business documents and transactions
Arranging for legalisation of documents
Persons in need of notary services must bring identification documents i.e., a valid passport or driving license. Other documents required may include a bank statement or utility bill to confirm a physical address.
Any additional documentation must be brought in as necessary.
Contact info@cinaa.ky or call 345-949-6999 to learn more.
The Cayman Islands National Attractions Authority Office is located at Pedro St. James 'Castle', Pedro Castle Road, P.O. Box 305, Grand Cayman, KY1 - 1501.
Pedro St. James
P.O. Box 305, Savannah
Grand Cayman, KY1-1501
Tel: 345 949 6999
Pedro St. James
P.O. Box 305, Savannah
Grand Cayman, KY1-1501
Tel: 345 947 3329
Hell Road, West Bay
P.O. Box 305
Grand Cayman, KY1-1501
Tel: 345 949 6999
S. Church Street, George Town
P.O. Box 305
Grand Cayman, KY1-1501
Tel: 345 949 6999
Frank Sound Road, North Side
P. O. Box 203
Grand Cayman, KY1-1701
Tel: 345 947 9462